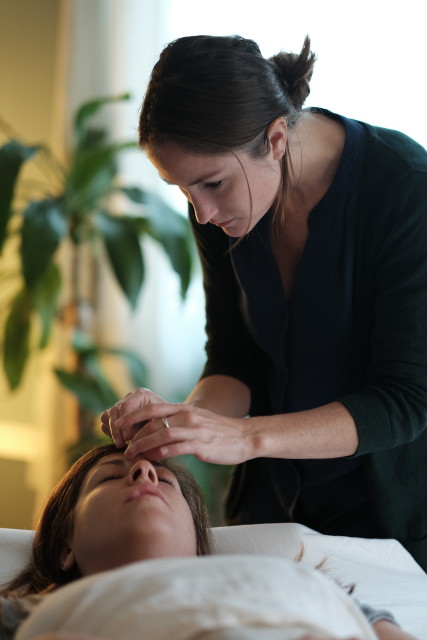 Some reviews from our patients at Piedmont Acupuncture & Wellness
Such a relaxing session!
I had a great acupuncture session with Carolyn! It really helped with my back and neck pain. I knew I was in good hands and immediately was transported to a stress-free state. I highly recommend working with Carolyn

–Erin W.
I have been going to acupuncture with Carolyn for 1.5 years now and I absolutely love it! She is truly one of the best and helped my chronic headaches and pain tremendously. She is empathetic and caring and always has suggestions to help with my ailments. She also has evening appointments which is perfect for working professionals. I highly recommend this practice! –Jessica J.
Attentive Care, Incredible Results, fair pricing
Carolyn did a combination treatment of hot cups for my lower back pain and acupuncture for some other issues. She has a very intuitive touch and at the end of the appointment I was floating on a cloud. Slept for 9 hours straight when I got home and woke up feeling brand new! Highly recommended. –Brian G.
Carolyn is an excellent practitioner! I have been seeing her weekly for a whole range of issues including balancing hormones and addressing autoimmune thyroid issues. Between our sessions and the herbs she prescribed, I'm feeling much more energetic every day and able to think clearer too! I highly recommend her for anyone looking for solutions to their own medical phenomena, you will be in great hands! The treatment room is very relaxing…I fall asleep every time

She also takes insurance! Major points for that! -Lindsay K.
I had acupuncture and cupping with Carolyn yesterday and today I'm feeling great! I have been stressed lately and she really helped me calm my nerves. She is very courteous and professional and focuses on your total well being. I will definitely be back for another treatment! –Kaylie S.
I recently visited Mayo Acupuncture Clinic in Oakland and I was very happy not only with the results but with the professionalism of Carolyn Mayo. She treated me for my shoulder/rotator cuff and I must say I felt better right away after the acupuncture treatment. The office is very clean and comfortable and Carolyn is very thorough and I felt she took extra time just to ensure that I felt better. She even treats for sinus problems and any aches and pains that you may have! I am definitely going back to her next week and I highly recommend her service. You will not be disappointed. –Claire K.